2014 Lexus RX 350 vs 2014 Buick Enclave Albuquerque NM
The crossover has become quite a popular choice as a family vehicle in 2014. It gives drivers the space they would expect from a full-size SUV, but power and performance similar to that of a modern sedan, presenting the perfect vehicle for a parent that needs to pick up the kids on the way home from work. However, a shaky economy makes the crossover competition even more aggressive. With the 2014 Buick Enclave, drivers get great performance and a lot of interior space, while the 2014 Lexus RX 350 boasts incredible fuel economy.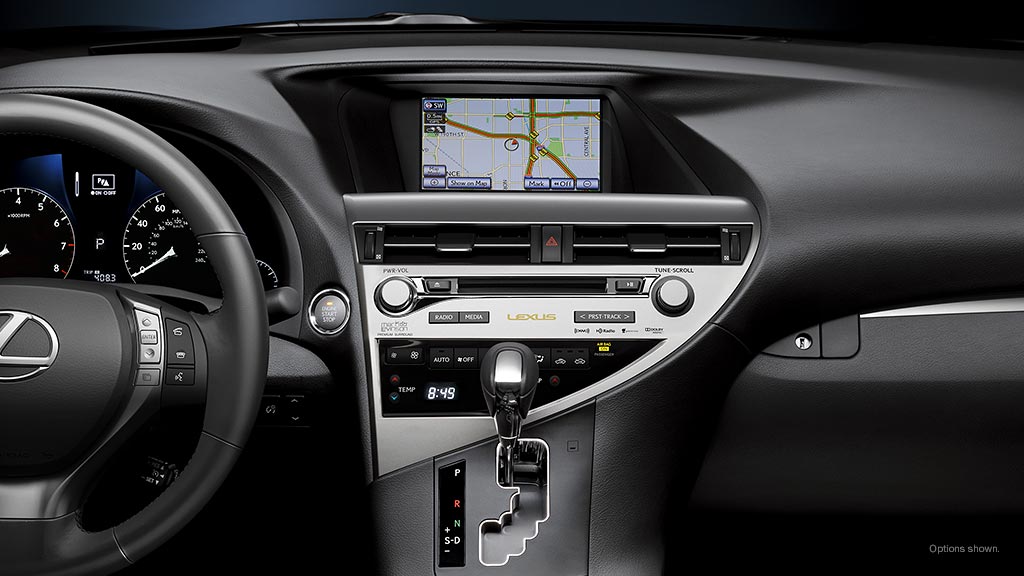 The 2014 Lexus RX 350
The 2014 Buick Enclave
2014 Lexus RX 350 Power & Handling
The powertrain options for the 2014 Lexus RX 350 are quite similar to its competitor from Buick. The RX 350 runs on a 3.5-liter V6 that delivers 270 horsepower. This engine is also bundled with the standard 6-speed transmission and front-wheel drive. All-wheel drive is optional as is an 8-speed automatic transmission with the F sport package. Fuel economy with the 2014 RX 350 is a bit better than its competitor, coming to 18/25 mpg city/highway with FWD, and 18/24 mpg city/highway with AWD. The standard RX 350 shows impressive handling abilities, with improvements in steering, comfort, and even cabin noise year-over-year. The vehicle's suspension creates a perfect feeling, helping the car to glide over rough areas. Not to mention, the RX 350 accelerates and brakes better and faster than most of its crossover competitors.

2014 Buick Enclave Power & Handling
With the 2014 Buick Enclave, what you see is what you get. There is only one engine option for prospective buyers to get excited about. Giving the Enclave the power it needs it a 3.6-liter V6 engine. It puts out about 288 horsepower and runs with a 6-speed automatic transmission. Standard for the vehicle is front-wheel drive, but all-wheel drive is an option. With FWD, the Enclave's fuel economy is at 17/24 mpg city highway. With AWD, it goes down to 16/22 mpg city/highway. Either way, this is excellent fuel efficiency compared to some other crossovers on the market. Comfort has also become a major point of focus for Buick in 2014, with the Enclave seating eight passengers with no issue. The engine is plenty powerful, although the horsepower numbers would seem to say otherwise. It accelerates quickly and steering is very responsive to driver input.

Design of the 2014 Lexus RX 350
This year, the Lexus RX 350 gains little more than a new grille when it comes to its exterior design. It retains its signature curves and distinctive window lines. The vehicles rear is slightly angled to create a perfect overall shape. In fact, the Lexus RX has become the exterior design motivation for many of its competitors, and with good reason. The vehicle's interior is interesting, giving the driver features like a push start and 9 speaker satellite audio. Legroom is about average, but by eliminating the rear seats with a simple down-fold, the RX 350 boasts about 80.3 cubic feet of cargo space. The controls in the instrument panel may seem a bit more confusing in 2014 than they have in the past, but this is simply because the RX 350 has been technologically brought up to date with things like dual-zone climate control, a color LCD display, navigation, a rearview camera, and Pandora.

Design of the 2014 Buick Enclave
The 2014 Enclave essentially looks the same as it has for a few years now, but a few changes to the exterior design of the car keep it looking interesting and sophisticated. It has gained a slightly altered hood and a newly designed grille that maintains the Buick look. It's dabbed in chrome from the roof rails to its exhaust pipes. Notable is its relatively small appearance, considering the list of accomplishments for its interior design includes an enormous cabin space. Even the passengers in the third row of seats can extend their legs a bit. Along with a lot of space come a quiet ride and a gorgeous dash, covered in exciting new controls and panels. Drivers are presented with features like power front seats, IntelliLink communications and Color Touch audio, temperature controlled seats, and a rearview camera parking assistant.

Conclusions
It isn't hard to get enticed by flashy features and convenient instruments that make driving all that much more fun. However, if it all comes down to price, as things tend to do, then it seems the 2014 Buick Enclave may be the best answer. However, the Lexus RX 350's price tag is not that much larger than that of its competitor, and this could be made up for with a leading fuel economy. Both cars come stocked with fun and interesting features that allow for an ultimately more comfortable and convenient ride, so it seems that the race here is a close one.