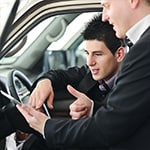 When you schedule a test drive with our associates at Pitre Buick GMC, you want to get the most out of your appointment. Feel free to bring a friend or family member with you! They can help you notice the little details you may miss. They can 'also provide you with another perspective.
Before starting your test drive in Albuquerque, NM, inspect the exterior and interior of the vehicle. Pay particular attention to the tires and look out for any dents when walking around the car. Look underneath for any leaks. When you get into the driver's seat, pay attention to how comfortable you feel. Make sure you can safely see over the dashboard.
Finally, feel free to take the vehicle out on the open roads. You need to see how it drives to ensure it is safe for you and your family. Test out the entertainment system, safety features, and other included settings while behind the wheel.